GUMBORO Antibody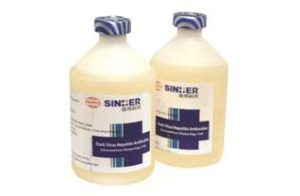 GUMBORO Antibody
Thông tin chi tiết:
GUMBORO Antibody
Ingredient
Gumboro antibody extracted from egg yolk, AGP titre ≥ 32.
Characteristic
Light brown or light yellow transparent solution, after 48 hours there may be a little thin white residue at the bottom but does not affect the treatment effect. The pH of the solution is 6.8 ~ 7.2.
Uses
Create passive immunity for prevention and emergency treatment of Gumboro disease in chickens.
The protection period lasts from 5-7 days.
Usage and dosage
Subcutaneous, intramuscular or peritoneal injection.
– Treatment dose:
Chicken
Chickens > 35 days old: 3ml/chicken.
– Dose for emergency prevention:
Chickens 25-35 days old: 1.5ml/chicken.
Chickens 35 – 45 days old: 2ml/chicken.
Chickens > 45 days old: 2.5 – 4 ml/head.
Repeat injection 2-3 times if necessary.
Advantages
1. Gumboro antibodies are extracted from SPF clean egg yolks.
2. This is a highly purified specific antibody with strong potency and broad spectrum of antiviral activity. When injected, it is quickly absorbed into the chicken's body, does not cause inflammation, local abscesses and other undesirable reactions.
3. With one injection, the protective effect lasts for 5-7 days.
4. The product is safe, non-toxic, non-residue, non-polluting and does not affect meat quality.
Note
1. During 5 days after injecting antibodies, do not use vaccines against Gumboro disease, Infectious Bronchitis, and Newcastle disease for chickens.
2. The product can be used concurrently with antibiotics against superinfection.
3. Shake the product well before use.
4. Discontinue use 7 days before exploiting the product.
SKU: SST-1
Specifications: 50ml, 100ml, 250ml plastic bottles.
Storage: At 2 – 80C, avoid direct sunlight.
Shelf life: 18 months from date of manufacture (see label).
Producer:
Name: Shangdong Sinder Technology Co., Ltd
Address: Rm 338, No. 268 Hongkong East Road, Qingdao, China
Phone: +86 532 88890701
Fax: +86 532 88895980
Website: http://www.sinder.cn