Catom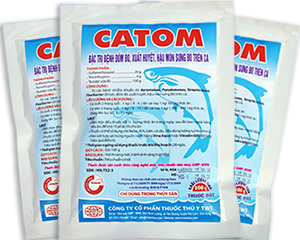 Catom
Thông tin chi tiết:
Drug name: CATOM
Phone number: HN.TS2-3
Main active ingredients:
– Sulfamethoxazole
– Trimethoprim
Uses:
Treatment of bacterial infections caused by Aeromonas, Pseudomonas (red spots, red swollen anus, bleeding) on freshwater cultured fish. Stop using 4 weeks before harvest.
Specification: Pack of 50 g, 100 g, 250 g, 500 g; 1 kg, 2 kg, 5 kg.